In 2018 Stones River Electric was contacted by ABM to design and install EV charging stations for 6 Porsche and Jaguar – Land Rover dealerships throughout Tennessee.
Most sites required a service upgrade to accommodate the multiple chargers, encompassing specific capabilities and sizes. This required coordination with local utilities, permitting, and engineered electrical plans to properly install these projects. In addition, to install the chargers in the most convenient spot for the dealership's customers, the parking lots, stalls, and sidewalks had to be modified in most cases. An additional requirement of having the exterior equipment installed on a stamped concrete walkway, required further coordination with concrete sub-contractors to ensure design criteria was maintained.
Most of the Jaguar – Land Rover locations required installation of (2) 480V DC fast charging stations, (2) 120V single port charging stations and (1) 120V dual port charging station. Due to the lack of available breaker space at some locations we were required to install two new panels and a new 120/208 Wye to 480V Delta transformer. The facilities allowed for surface mounting conduit in the service area but requested that conduit and accessories in the show room be out of sight.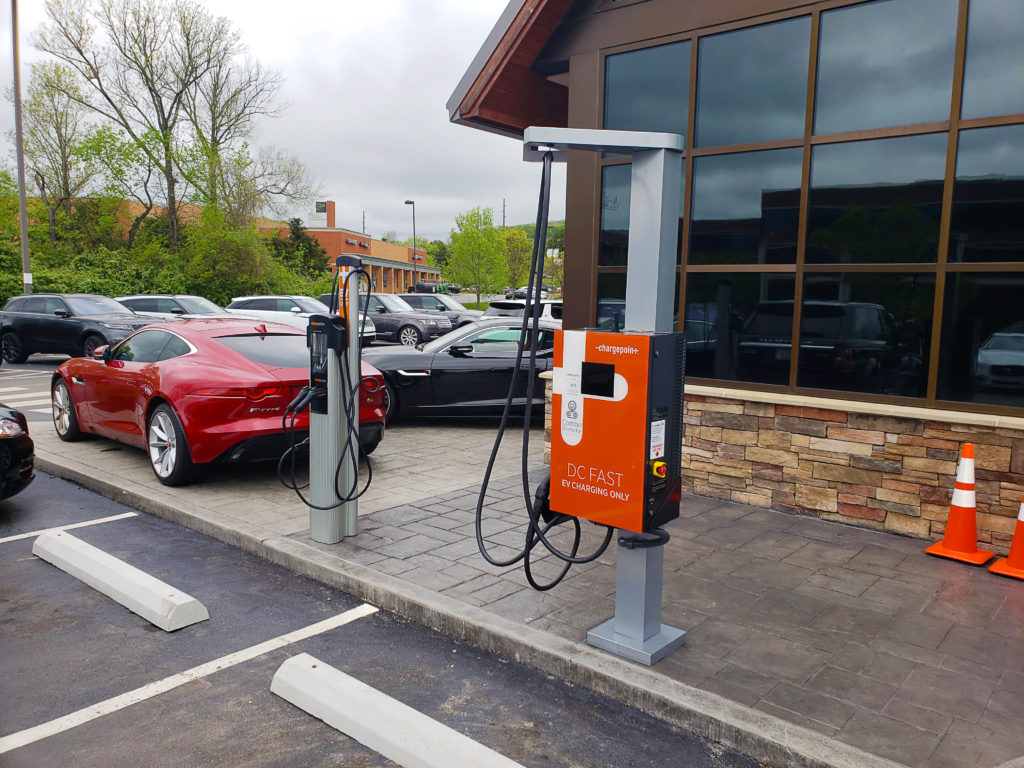 The engineering phase of the projects required detailed information to be gathered during the site audits. Documenting all panel schedules, gathering existing civil and electrical drawings, and calculating the existing load of the electrical system enables the engineer to determine if the facilities' electrical system has the capacity to add the new calculated load. Survey of the property to locate underground utilities, and to confirm existing infrastructure was also be completed during this phase of the project. Finally, new as-builts, one-lines, and site drawings were completed detailing all changes to existing infrastructure.